Thing one and Thing two are a few of my favorite Dr. Seuss characters. I mean seriously, can that kooky blue hair get any more awesome? I think not! That's why today we are sharing how to make this super duper fun Thing 1 and 2 Blow Painting Dr. Seuss Craft. It's perfect to go along with Dr. Seuss' birthday and Read Across America Day next month.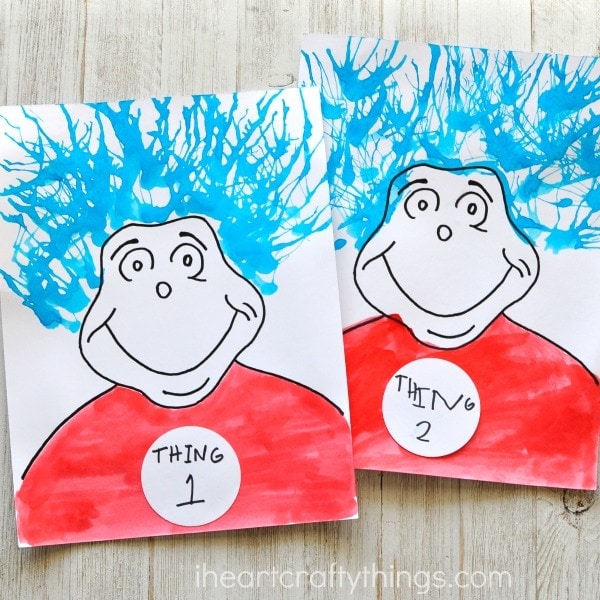 [This craft post was originally published in 2016 and has since been updated.]
Preschoolers love reading Dr. Seuss books. My daughter is especially fond of Cat in the Hat which was the inspiration behind our Thing 1 and Thing 2 Dr. Seuss activity we are sharing with you today. We have also recently discovered Bartholomew and the Oobleck and can't get enough of it. What are your favorite Dr. Seuss books?
HOW TO MAKE A THING ONE AND THING TWO BLOW PAINTING DR. SEUSS CRAFT
DR. SEUSS CRAFT SUPPLIES:
heavy white cardstock
liquid watercolors (We used the turquoise color from this Sargent Art set.)
plastic dropper pipette
paintbrush
straw
scissors
glue stick
DR. SEUSS CRAFT INSTRUCTIONS:
1. Begin by drawing the face and body of Thing 1 or 2 on your white cardstock paper.
2. Paint the body of your Thing 1 or 2 red with your watercolors. For an alternative you can also use crayons, markers or red paint to color the body of your Thing template.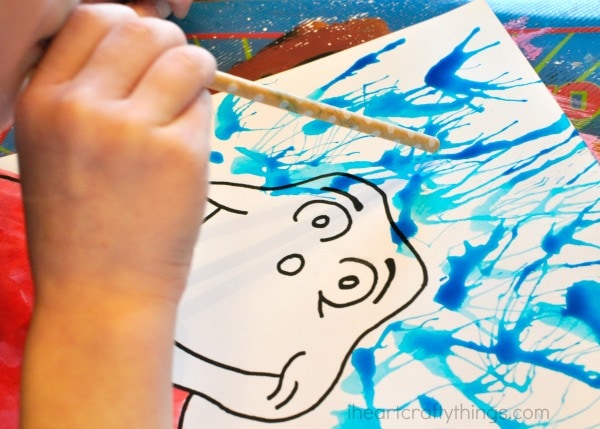 3. Use a plastic dropper pipette to add big drops of blue liquid watercolor around the face of your Thing and use your straw to blow the paint all over the top of the head to make that crazy Thing blue hair.
Continue adding blue liquid watercolor drops and blowing the paint until you have the look you want for your crazy Thing 1 and Thing 2 hair. Let the watercolor paint dry completely.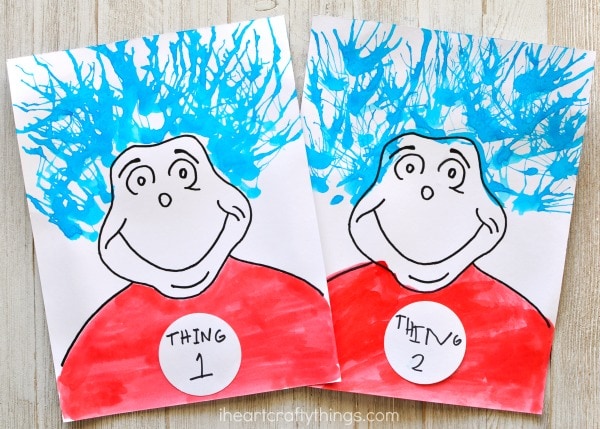 4. Cut out one of the Thing label circles from the craft template and glue it onto your Dr. Seuss craft. If you are doing this as a classroom activity or display, you may like to have each student use a different number for their Thing or their name. You can also have them give their Thing their own unique name.
If you don't want to purchase our template, simply cut out a white cardstock circle for the badge. Write "Thing 1" or "Thing 2" on the circle and glue it onto your Dr. Seuss craft.