t's amazing what fun things you can create by combining simple shapes together. The Kids Craft Star challenge this month is all about painting with sponges and since we we've already been in the mood for reindeer's, we created this sponge painted reindeer craft that makes a great Christmas kids craft. Not only is painting with sponges fun for kids, but painting with shapes makes for a great toddler and preschool activity. Grab some sponges and lets get ready for some reindeer painting fun! Don't forget to check out more Christmas sponge painting ideas near the bottom of this post from the kids craft stars!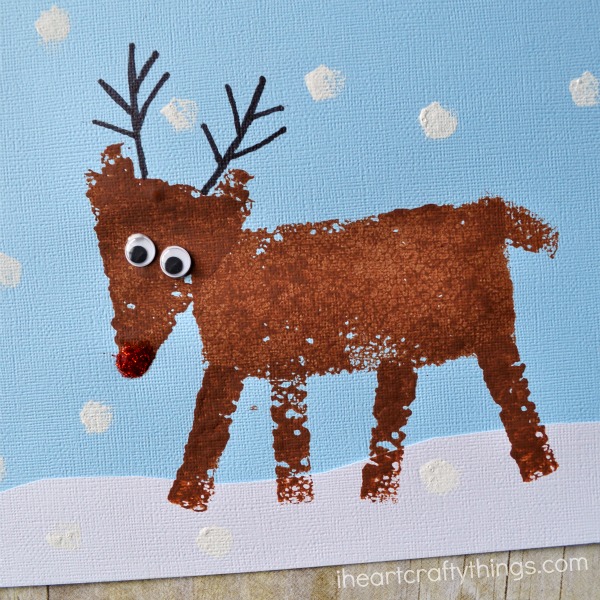 HOW TO MAKE A SPONGE PAINTED REINDEER CRAFT
Supplies you will need:
light blue and white cardstock paper
large sponge
brown paint
white paint
small paper plates
red glitter glue
googly eyes
black permanent marker
glue
Directions:
1. Start by gathering your supplies and cutting out the shapes you'll need from your large sponge. You'll need a triangle for the reindeer face, rectangle for the body, and two skinny rectangles for the legs and tail. We also ended up cutting out a small circle to use for dabbing snow (not pictured).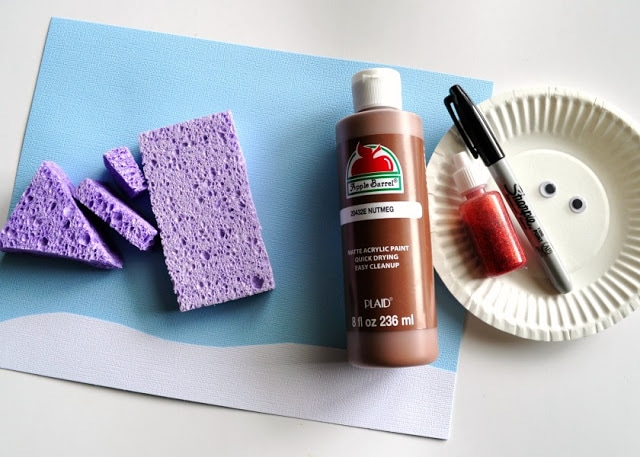 2. Cut a section off along the bottom of your white cardstock paper for snow and glue it at the bottom of your light blue cardstock paper.
3.  Pour some brown paint onto a small paper plate. Dab your large rectangle sponge into the paint, covering the bottom of it completely and then press it in the middle of your blue cardstock paper. Continue by dabbing in the triangle in the paint and onto your paper for the reindeer head. Next the longer skinny rectangle for the four legs. Finish by using the smallest rectangle for the tail and two ears.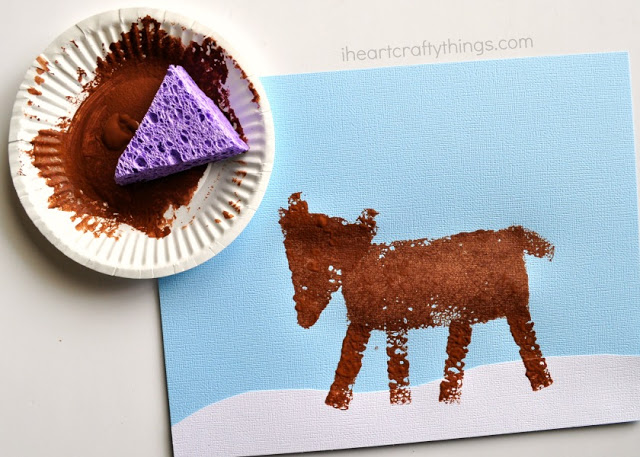 4. At this point we decided to cut a small circle out of our sponge and used white paint to dab it in and then on our paper all over to make snow falling. It's an optional step but I think it looks great!
5. Once your paint has dried, glue googly eyes onto your reindeer face, draw on antlers with your black marker and finish your reindeer craft by making a bright, shiny Rudolph nose with you red glitter glue.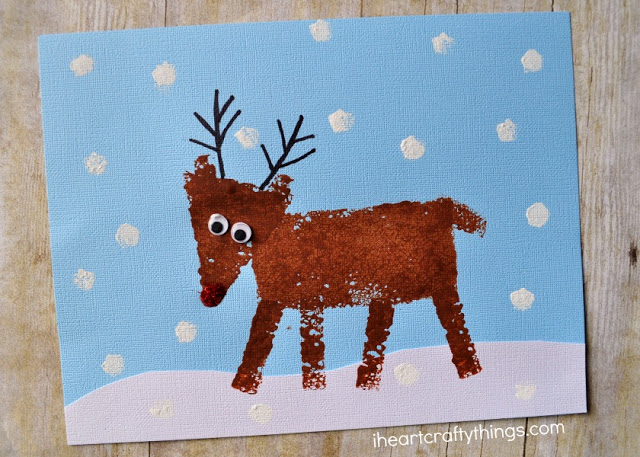 Here is my five year old daughter's finished reindeer craft. I love her big, puffy snowflakes and silly googly eyes! And how adorable is it that she cut off the corners of her paper?! She told me it gave it a special touch.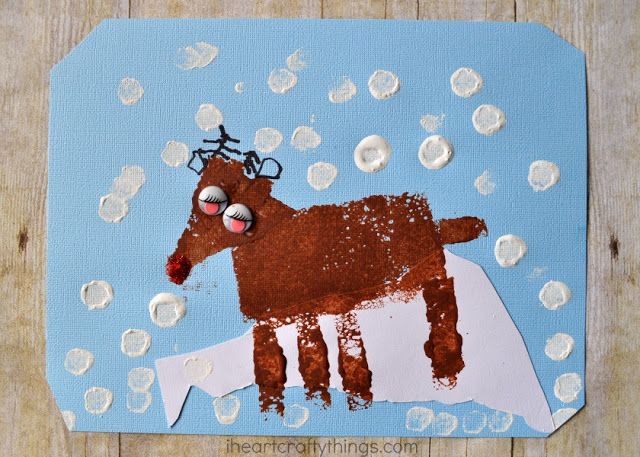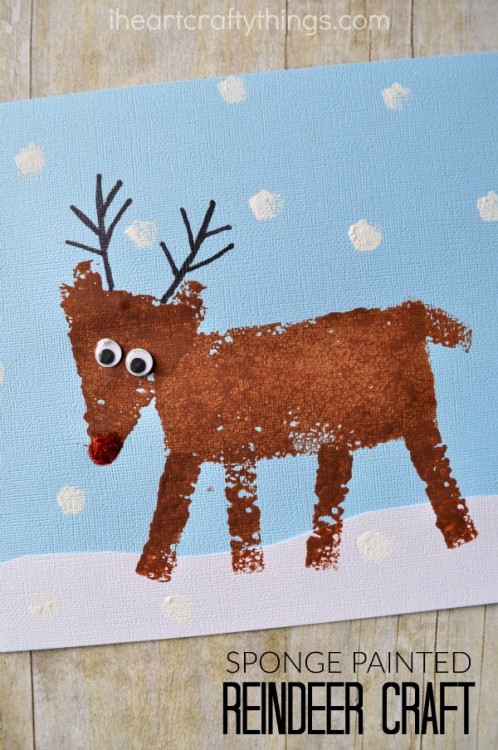 A Little Pinch of Perfect | Red and Green Poinsettia Sponge Painting
Artsy Momma | Sponge Painted Gingerbread Cookies
Easy Peasy and Fun | Sponge Painted Christmas Sock Craft
Pink Stripey Socks | Mini Painted Sponge Christmas Trees
Hello, Wonderful | Sponge Painted Christmas Tree Art
I Hearts Arts n Crafts | Sponge Painted Christmas Wreath Painting
Artsy Craftsy Mom | Sponge Painted Reindeer Wrapping Paper