Making crafts based on children's books is a great way to bring books to life for young children. National Book Lover's Day is on August 9th so try celebrating with a trip to your local library and then have fun creating a book inspired craft at home. These silly paint smash monster puppets we are sharing today are a super fun process art activity for kids and they go along great with any monster-themed children's book. Find some book recommendations near the bottom of this post.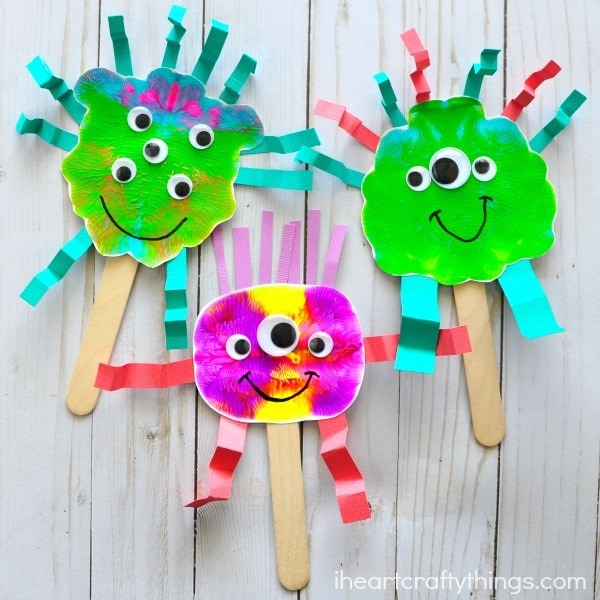 HOW TO MAKE PAINT SMASH MONSTER PUPPETS
The best part of this craft is how it's almost impossible to make only one monster. The smash painting process will keep kids enthralled and entertained for hours. Kids will love making dozens of variations of blobs with different colors and amounts of paint. This activity also creates a great opportunity for children to learn their colors and delve a bit into color mixing.
Supplies:
white cardstock
construction paper
paint
jumbo adhesive craft sticks (We received our adhesive craft sticks from our friends at Craftprojectideas.com. All opinions expressed are my own. You can find them at your local Walmart on the craft supplies aisle.)
googly eyes
scissors
glue
Instructions:
1. Begin by folding your white cardstock in half to make a crease in the middle of the paper and then open back up the paper.
2. Add paint to the middle of your paper. Get as creative as you'd like with the amount of colors you use and the different designs you make with your paint. You can make swirls, straight lines, squiggly lines or dots. After adding your paint, fold your cardstock in half again and smash the paint down between the two halves of the paper to create your colorful, silly monster face. Use your fingers to rub the paper from the crease outward to spread the paint out across the paper.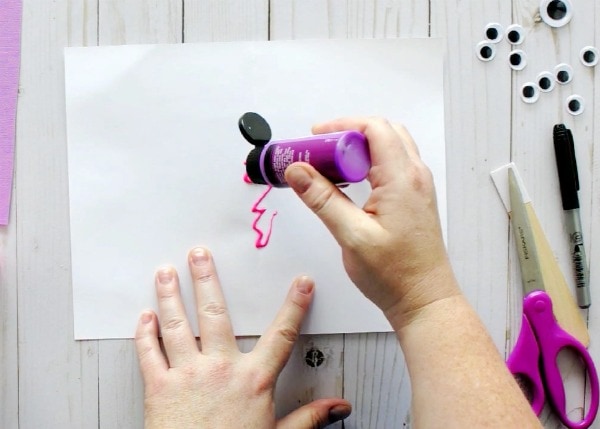 3. When you are finished smashing and rubbing your paint, open your paper to see the colorful blob that was created. Let the paint sit to dry completely.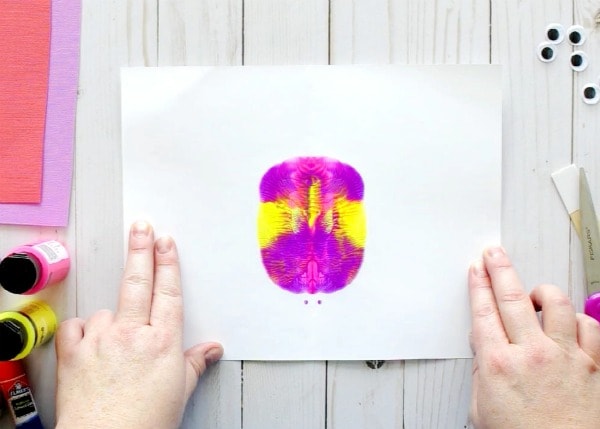 4. When your paint is dry cut out your monster face and attach it to your jumbo adhesive craft stick. If you can't find an adhesive craft stick simply glue your monster face onto a regular jumbo craft stick.
5. Cut out several different construction paper pieces to create limbs and hair for your monster puppet. Glue them onto your puppet. Give your monster puppet extra personality by bending and folding the construction paper pieces to add extra texture. You can add curls to the hair by wrapping the pieces around a pencil or add accordion folds to the arms and legs.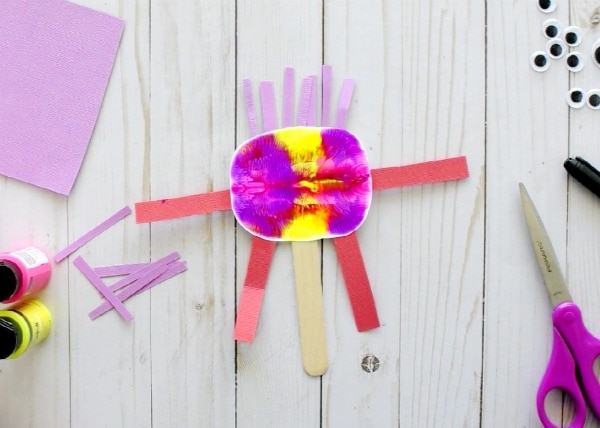 6.
finish your monster puppets craft by gluing on 1, 2, 5, 10 or however many googly eyes you'd like your monster to have. Then add a cute smile with your black marker.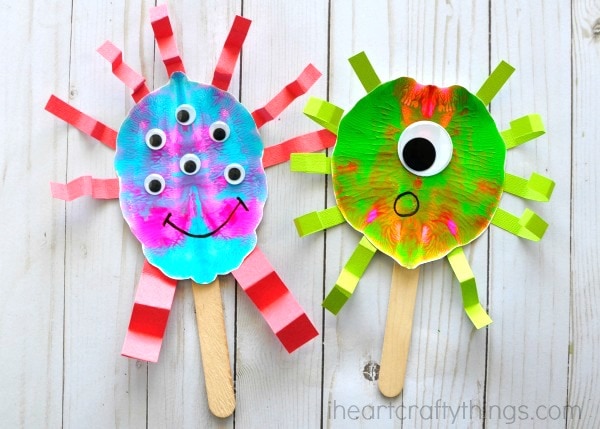 NOW THAT YOUR MONSTER PUPPETS CRAFT IS FINISHED IT'S TIME FOR PLAY!
Use your puppets to put on a special puppet show for Mom, Dad or with friends in the classroom. Have fun reenacting one of your favorite monster books or create your own story.