We are having so much fun sharing tide pool themed kids crafts with you this week. My daughter loved making our Puffy Star Fish and Sea Anemone Craft earlier this week and today we are sharing this simple Sea Urchin Kids Craft. It uses toothpicks so it's not ideal for toddlers, but my 4-year old loved making it with me. I love all of the fine motor skills involved in making the craft by poking in all those toothpicks. It's a perfect summer afternoon kids craft!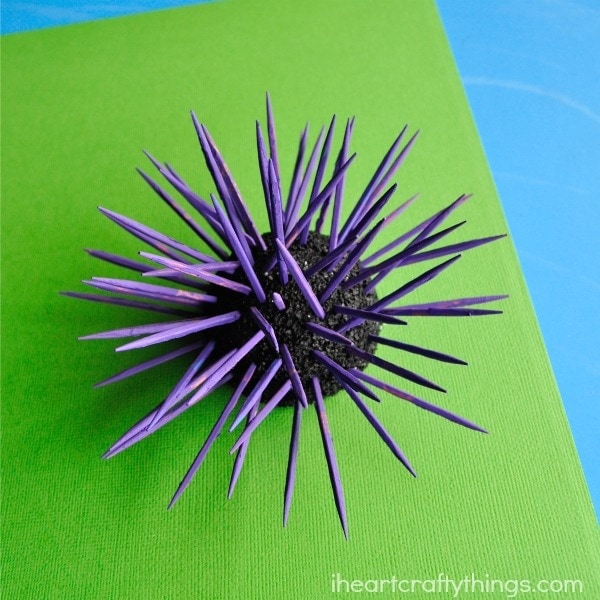 I thought it would be fun to show you a picture of some amazing Sea Urchins we happened upon when exploring tide pools on the Oregon Coast last week and then I'll show you how we made our craft. The Sea Urchins were stunning with their bright purple color. It was such an awesome site! At this particular location we were able to carefully touch them so it was a fantastic experience for my kids.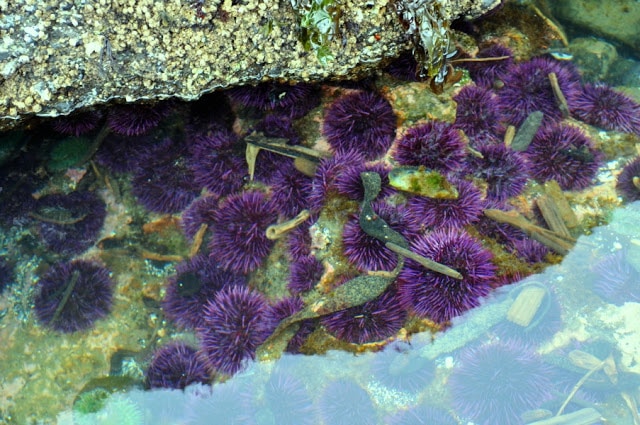 HOW TO MAKE A SEA URCHIN KIDS CRAFT
Supplies you will need:
3-inch Styrofoam Ball
square toothpicks
black and purple acrylic paint
plastic sandwich bag (optional)
acrylic paint
orwax paper
(optional)
paint brush
knife
Directions:
1. Start by cutting the bottom of the Styrofoam ball off so it lays flat. An adult MUST complete this step since it involves using a knife.
2. Paint your Styrofoam ball with black paint and set it aside to dry completely.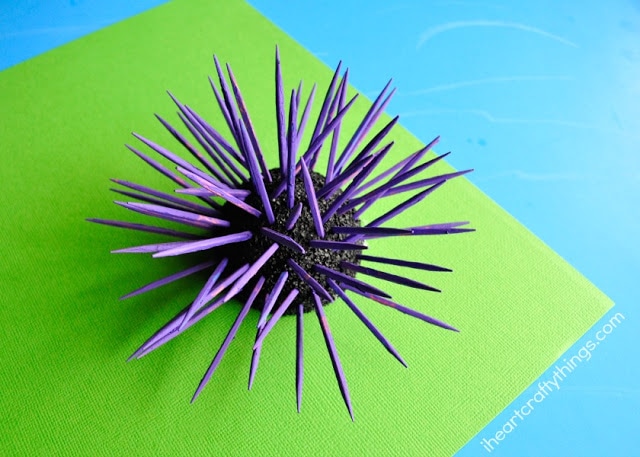 3. Paint your toothpicks with purple paint. To make this step easy, we added a handful of toothpicks into a plastic sandwich bag and then added a few squirts of purple paint into the bag. Seal the bag shut and let your child carefully squish the toothpicks around in the bag to coat them all with the purple paint. Pour the toothpicks out onto a piece of parchment or wax paper to dry. If you have some stuck together you can separate them with a fork.
4. Once your toothpicks are dry, carefully poke them all over into the Styrofoam ball to finish making your sea urchin.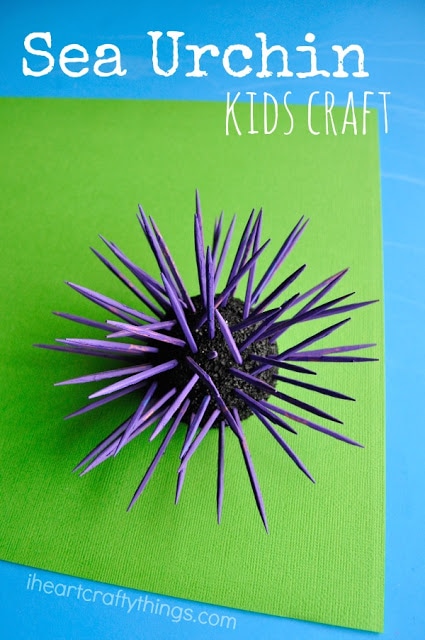 S