It's the season of love with Valentine's Day coming up and what better way to celebrate than with a sweet paper plate love birds craft?! All you need is a single paper plate and a few other materials to whip up this love birds craft in a jiffy. The best part, after making it, kids will enjoy playing with their craft, watching as their love birds rock back and forth as if dancing.
Go grab some paper plates and get ready to make this sweet rocking paper plate love birds craft with the help of our easy step-by-step tutorial below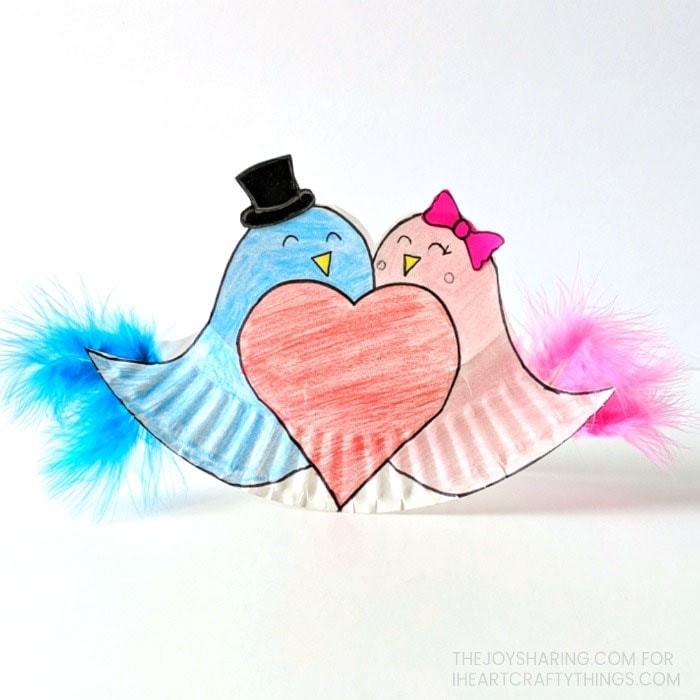 HOW TO MAKE A ROCKING PAPER PLATE LOVE BIRDS CRAFT FOR VALENTINE'S DAY
SUPPLIES:
paper plate
colored pencils (or crayons)
black marker
feathers
cardstock paper (optional)
scissors
pencil
INSTRUCTIONS:
1. Grab your paper plate and fold it in half.
2. Use your pencil to draw the love birds with a heart outline on one side. Use your picture below for a guide on how to draw your love birds. Now draw the bird's eyes and beak on your love birds.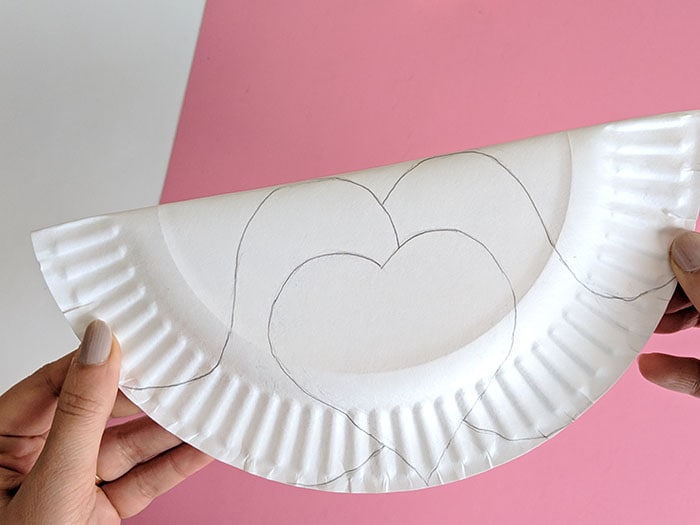 3. Color in the love birds and heart using colored pencils (or crayons) as shown in the picture below. Outline the birds and heart using a black marker.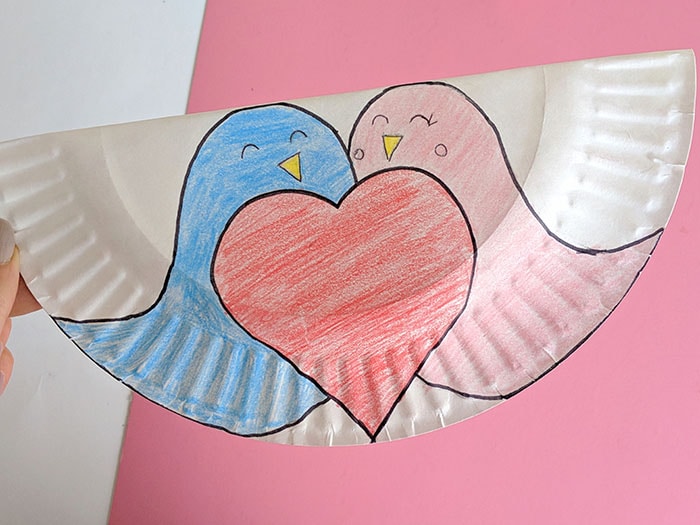 4. Carefully cut out the top section of the paper plate along the love birds shape, leaving the top part intact as shown in the pictures.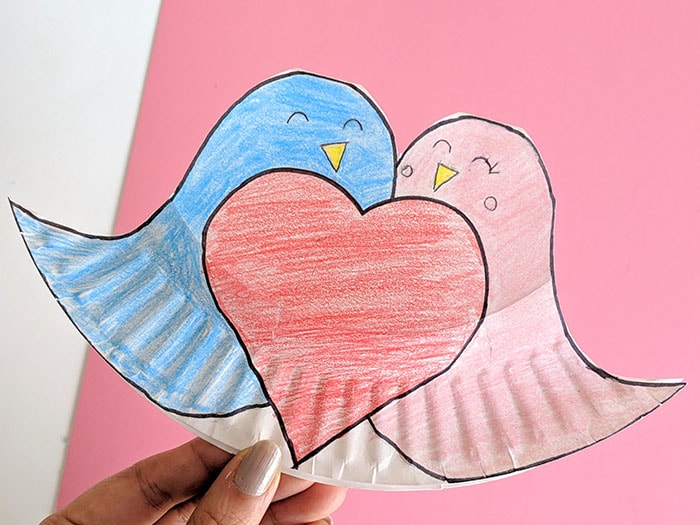 5. Trace and cut out a hat from black cardstock paper and a bow from dark pink cardstock paper. (Note: You can also use the paper plate scrap left.) Cut out the shapes and paint black for hat and dark pink for bow.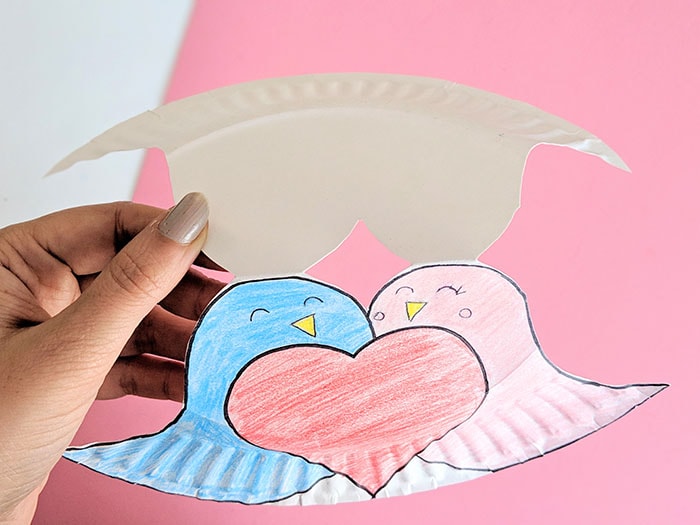 6. Glue the hat on the blue bird and bow on the pink bird. Of course if kids choose to color their birds different colors that is perfectly fine. Knowing my daughter, her birds would probably be a colorful rainbow.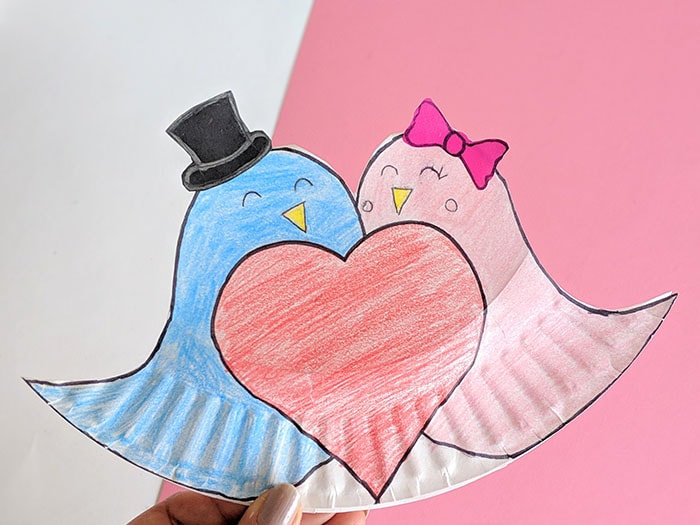 7. Glue a few feathers on each bird's tail. Your cute love birds are all set to rock!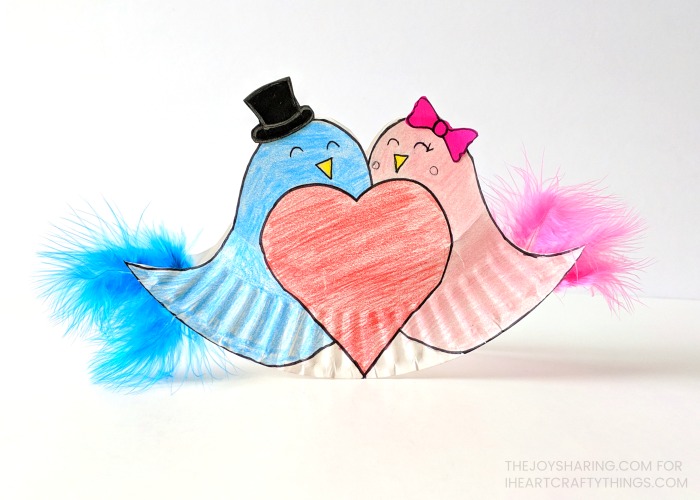 YOUR ROCKING PAPER PLATE LOVE BIRDS CRAFT IS READY FOR PLAY