When the weather gets cold and snowy my daughter always gets out some of her favorite books about Polar Bear's at bedtime. She has a favorite called Polar Babies (affiliate) and reading it always gets us in the mood for a fun Polar Bear craft. These cute Polar Bear Finger Puppets are not only a great winter kids craft but they are perfect combined with a favorite children's book about Polar Bears. Find some recommendations near the end of this post.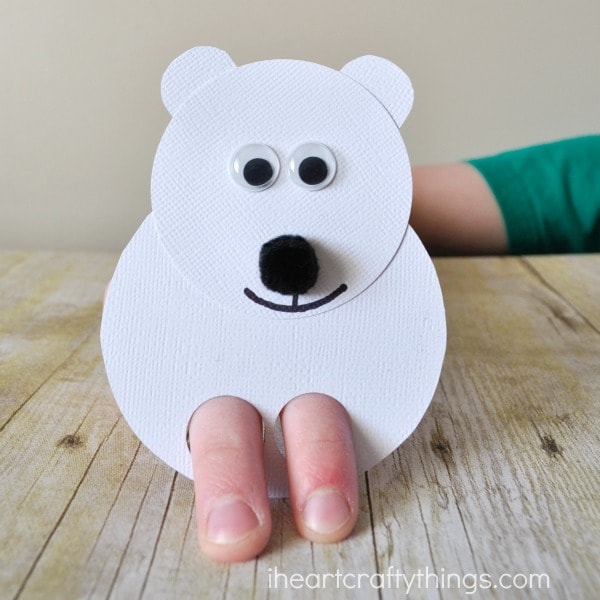 HOW TO MAKE A POLAR BEAR FINGER PUPPET
Supplies you will need:
white cardstock paper
2 1/2-inch circle punch (optional)
1/2-inch circle punch
googly eyes
small black pom pom
black marker
glue stick
scissors
Directions:
1. Start by cutting out a 2 1/2-inch circle, a 4-inch circle and two polar bear ears out of your white cardstock paper.
2. Punch two 1/2-inch circles out at the bottom of your larger circle. These will be the little finger holes for your puppet. Glue the 2 1/2-inch circle onto the 4-inch circle to make the polar bear head and body. Then glue the ears onto the back of the head.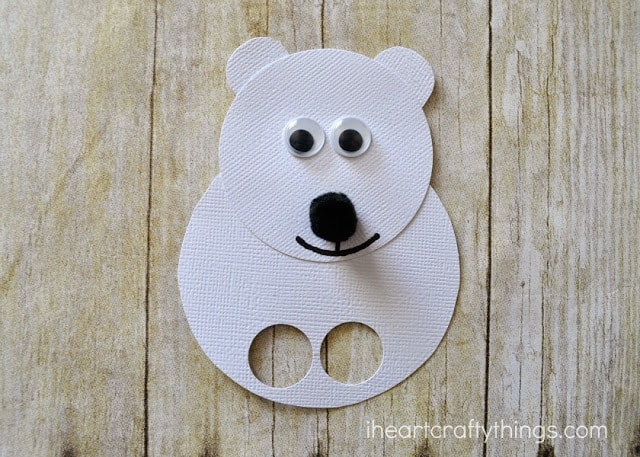 3. Finish your polar bear finger puppet by gluing on your googly eyes, small black pom drawing on a mouth with your black marker.
Put two of your fingers into the holes for your polar bear feet and now your cute little guy is all ready for play.