No matter what type of climate you live in there is always a great way to enjoy snowman in the winter by bringing the fun indoors. Yesterday we shared adorable bottle cap printed snowmenand today we are sharing this paper bag snowman puppet. It's a perfect indoor winter craft for kids and it couples great with a favorite children's snowman book. Look for a recommendation near the end of this post.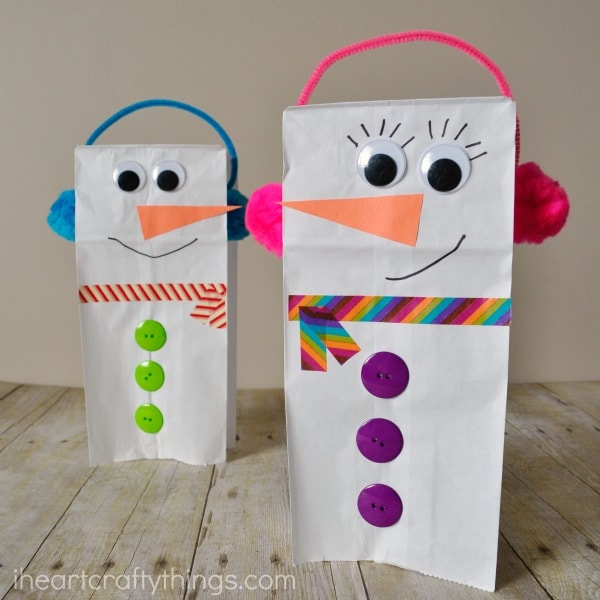 How to Make a Paper Bag Snowman Puppet
Supplies you will need:
white paper lunch bag
orange construction paper
large googly eyes
large pom-poms
pipe cleaners
washi tape
buttons
black marker
Glue Dots
scissors
tacky glue
Directions:
1. Lay your paper bag down flat, making sure the side with the hangover flap (the bottom of the bag) is face down.
2. Cut a triangle carrot nose out of your orange construction paper. Glue your googly eyes and nose onto your paper bag. Next, draw a mouth and any facial features you want on your snowman. My daughter and I drew eyelashes onto our snowman.
3. Use your washi tape to make a scarf on your snowman. Then glue your buttons onto the front of your bag.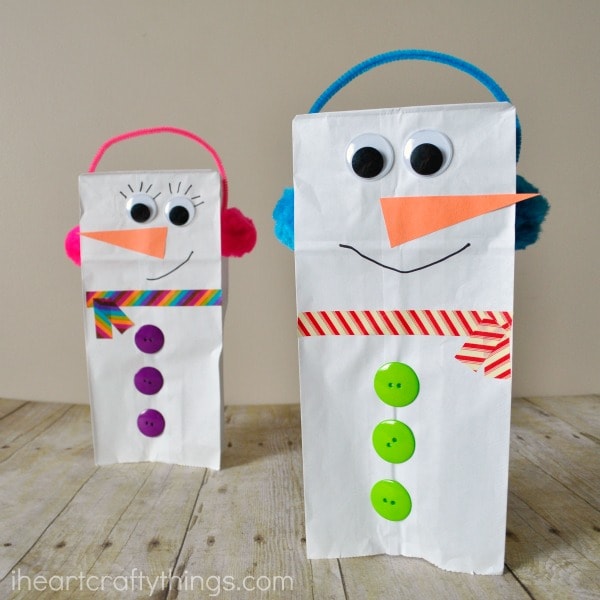 4. Open up your paper bag. Add a Glue Dot onto the ends of your pipe cleaner. Attach the pipe cleaner to the sides of your paper bag.
5. Add a generous amount of glue onto your large pom pom. Put one hand inside your bag along the side of your bag, and use your other hand to attach your pom pom onto the side of your bag for your ear muffs. Use the hand on the inside of your bag as pressure and hold the pom pom in place and count to 30 to help keep it in place. We used tacky glue because it tends to give hold a lot quicker than regular school glue. Do the same to attach the other pom pom on the other side of the bag.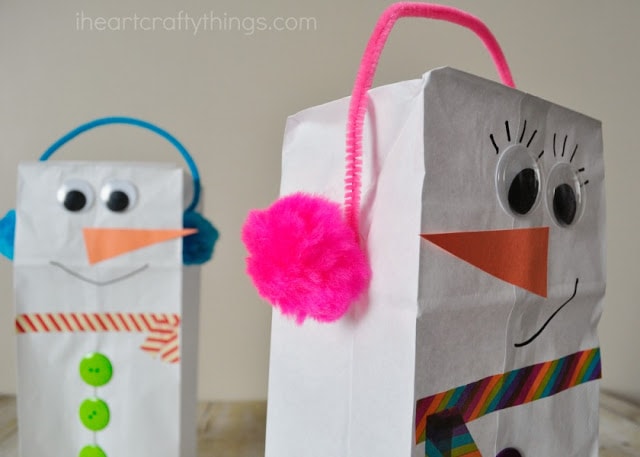 Let the glue on your paper bag snowman puppet dry for a few hours. Once the glue is dry, put your arm inside your puppet and have fun playing with your adorable snowman! Below is a picture of my preschooler's cute snowman.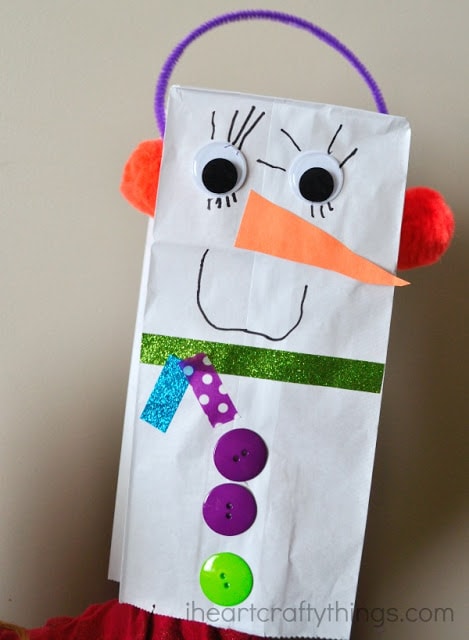 We loved combining this snowman craft with one of our favorite winter books, Snowman at Night by Caralyn Buehner. It's a must read for winter time!