This shop has been compensated by Collective Bias, Inc. and its advertiser. All opinions are mine alone. I hope you take a break for yourself to snack brighter and enjoy the new Outshine Simply Yogurt Bars before and after making this fun DIY Mother's Day Gift for all the Mom's and Grandma's in your life. #OutshineSnacks #CollectiveBias
Some of my favorite Mommy moments are spent sitting on my front porch with my kids snacking on Outshine Bars. My boys usually have lots of funny jokes to tell me which always creates lots and lots of giggles, and you can guarantee there are always big smiles. Last week when I was grabbing some of the new Outshine Simply Yogurt Bars at Walmart this fun idea hit me to create a DIY Mother's Day Gift with them. Since I love how satisfying they are and they make me feel good, I knew my Mom and Grandma would enjoy them as much as I do!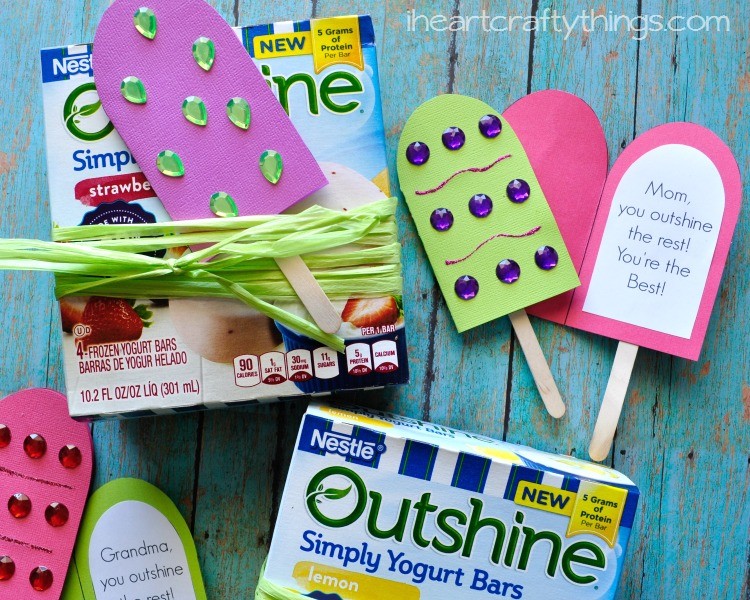 Outshine Bars have been a favorite snack for my family for several years. In fact, if my husband and I see there is only one left in the box, we will both try to hide it in the back of the freezer for no one to see so we can secretly claim it for ourselves. Haha! There are so many different varieties and flavors so everyone in my family has their own favorite. I love how they are made from honest ingredients like strawberries, peaches and coconuts that make you feel refreshed from the inside out. Their *NEW* Outshine Simply Yogurt Bars variety has quickly become a contender for my favorite. They are delicious!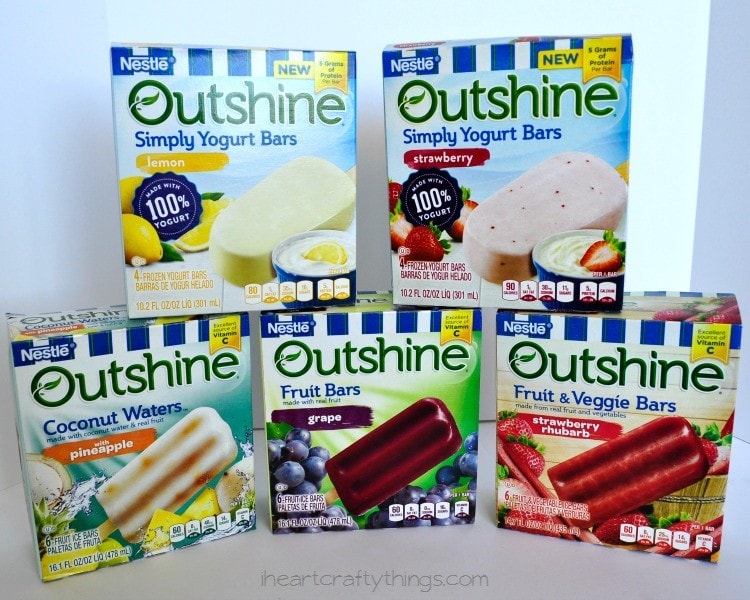 If you are looking for a simple and refreshingly delicious gift to give for Mother's Day, this "Outshine" Mother's Day Gift is just what you are looking for! Plus, kids can easily create the Fruit Bar Cards themselves which makes it a perfect kid-made gift for Grandma. I've even included a printable of the Fruit Bar Card pattern to make the craft even more simple.
HOW TO MAKE AN OUTSHINE DIY MOTHER'S DAY GIFT
Supplies you will need:
Outshine Mother's Day Card Printable
Outshine Simply Yogurt Bars (or one of their other varieties: Outshine Fruit Bars, Outshine Fruit & Veggie Bars, Outshine Coconut Water Bars)
colored cardstock paper
white printer paper
craft sticks
acrylic jewels
glitter glue
raffia
tacky glue
Directions:
1. Start by finding the delicious Outshine Bars in the frozen aisle at Walmart. I found them by the Novelty Ice Cream products. We used the new Simply Yogurt Bars for our gift, but you can choose whichever variety you like best.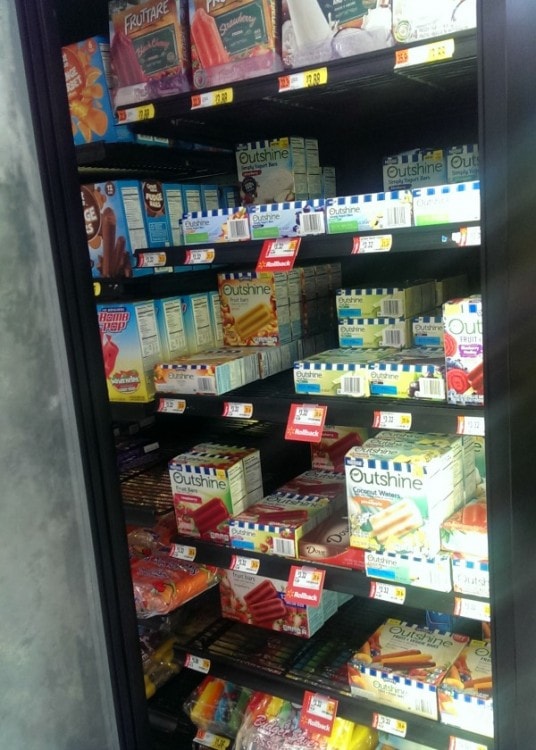 2. Print out the Outshine Mother's Day Card Printable. Print page one on colored cardstock paper and page two on white printer paper. Cut out all the pieces.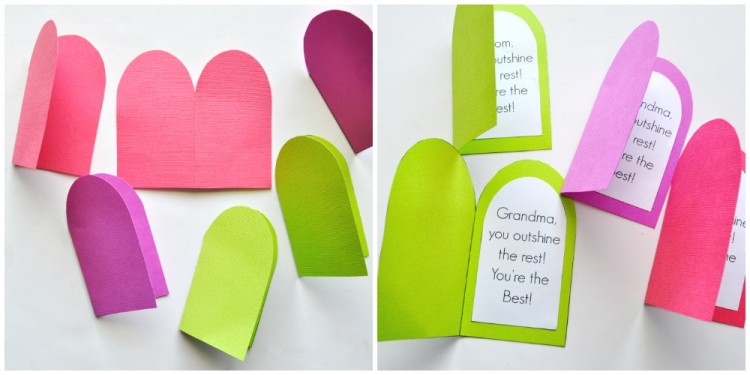 3. Fold the Fruit Bar pieces in half. Glue on the inside message section of the card and then unfold the card again to decorate it.
4. Use your acrylic jewels and glitter glue to decorate the front of your Fruit Bars. Glue a craft stick to the back of the Fruit Bars and let them dry completely.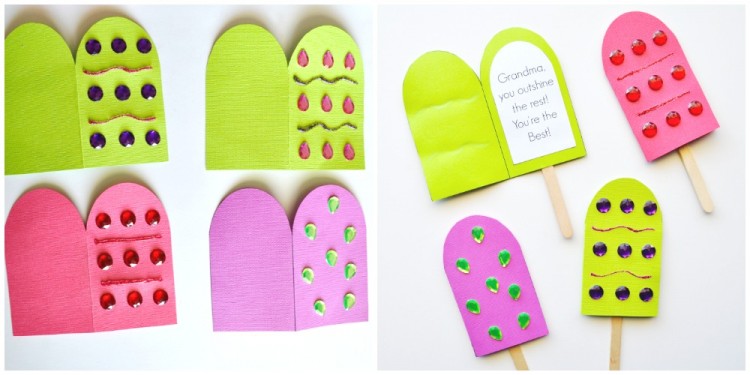 5. Get out your Outshine Simply Yogurt Bars and tie raffia around the box. Slip your Fruit Bar Card inside the raffia and it is all ready to deliver to Mom's and Grandma's for Mother's Day.