Get ready to brighten someone's day with this simple Easter bunny card. This adorable greeting card is a super easy Easter craft for kids of all ages (and adults) to make, and it makes a wonderfully simple gift for kids to give to family or friends for Easter or the spring season.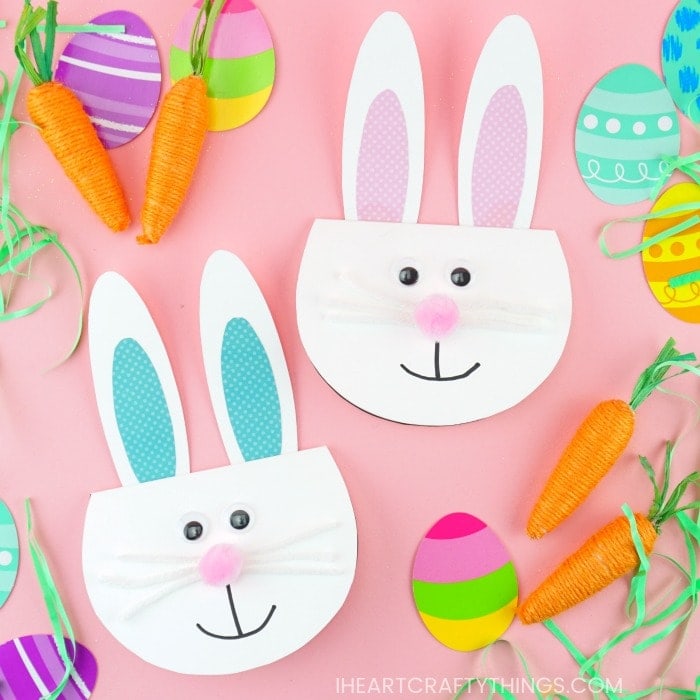 Making the bunny card is extra easy with our free printable card template so little ones like preschoolers can even have fun creating this simple greeting card.
After assembling the card, add fun details like a fluffy bunny nose and whiskers. Finish by writing an Easter themed message on the inside of the card.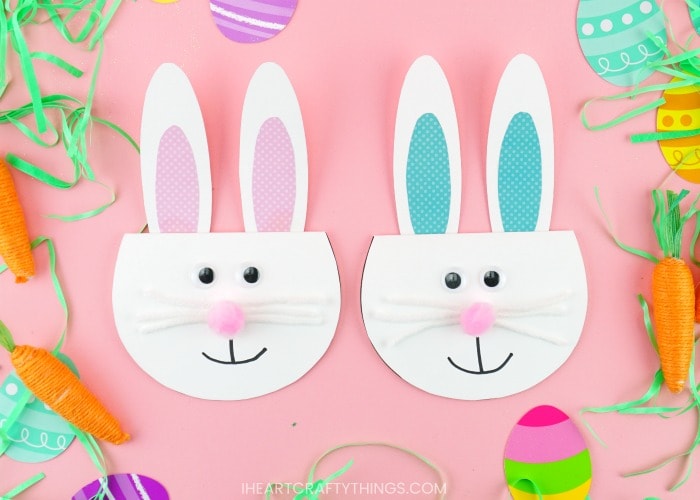 HOW TO MAKE AN EASTER BUNNY CARD
SUPPLIES FOR EASTER CARD:
white cardstock
patterned scrapbook paper
white yarn or string
pink craft pom
googly eyes
markers
scissors
glue
INSTRUCTIONS TO MAKE BUNNY CARD:
1. Begin by downloading and printing out the card template on white cardstock. We used 65 lb. cardstock for our cards. Cut out the pieces of the template.
2. Use the inside ears template piece as a pattern and cut out the two pieces from patterned scrapbook paper. A pretty pastel color works perfectly to add a spring touch to the card. Or if you prefer, you can simply color the inside ear pieces with crayon or marker.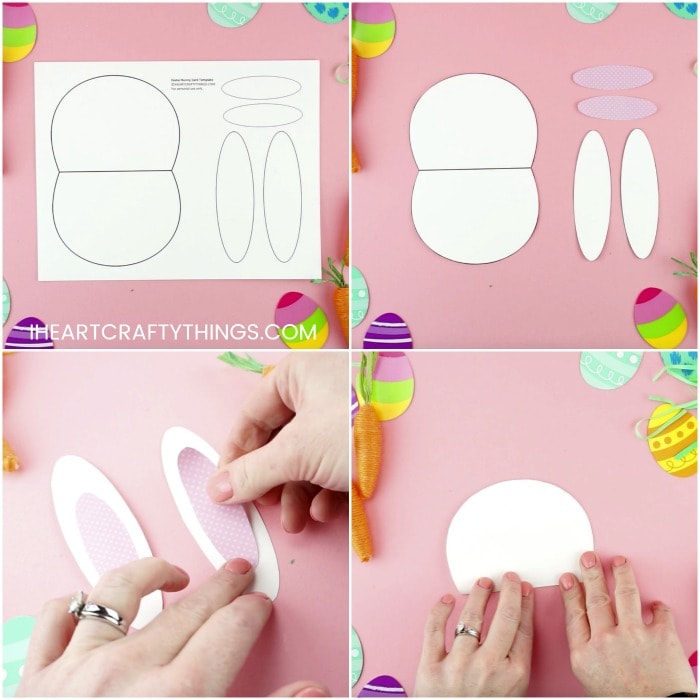 3. Glue the inside ear pieces onto the white bunny ears.
4. Fold your card template piece in half along the line to create the bunny face for the card.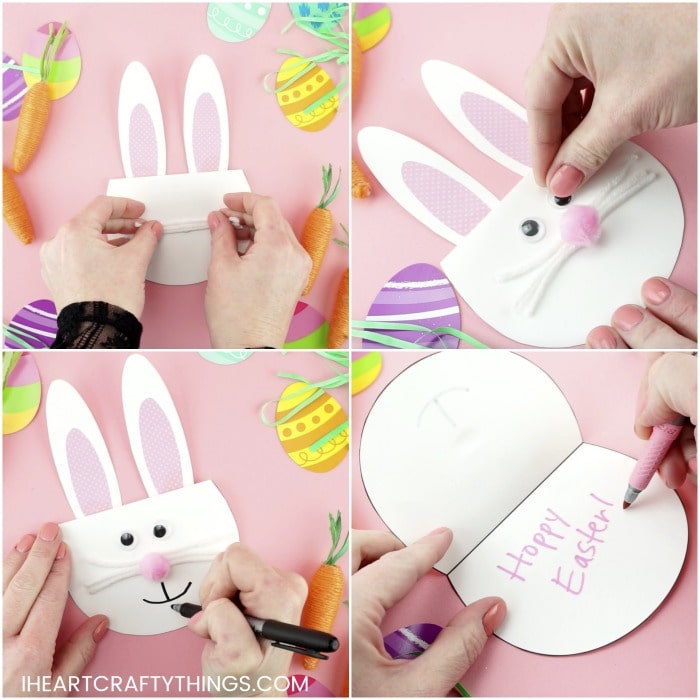 5. Add glue to the bottom of your bunny ears and glue them on the back of your bunny card.
6. Cut three sections of white yarn at equal lengths for the bunny whiskers. Add Tacky Glue on the center of the bunny face and glue the yarn on.
7. Glue a pink craft pom in the center of the yarn pieces to create a fluffy bunny nose for your card.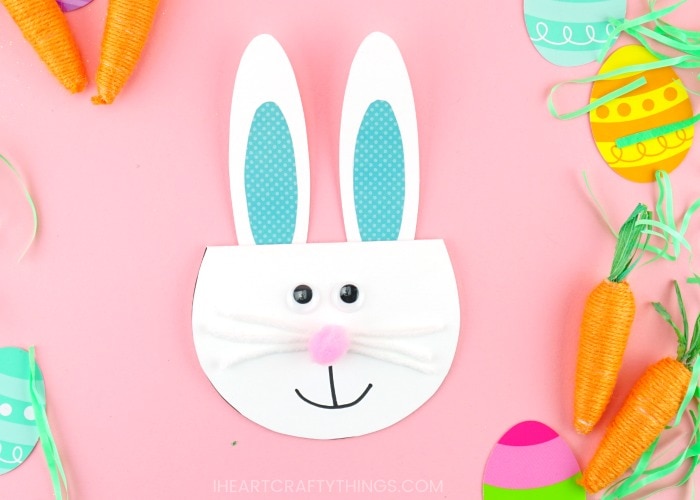 8. Add googly eyes to your cute bunny face.
9. Use markers (or crayons) to draw a mouth on the front of your Easter card.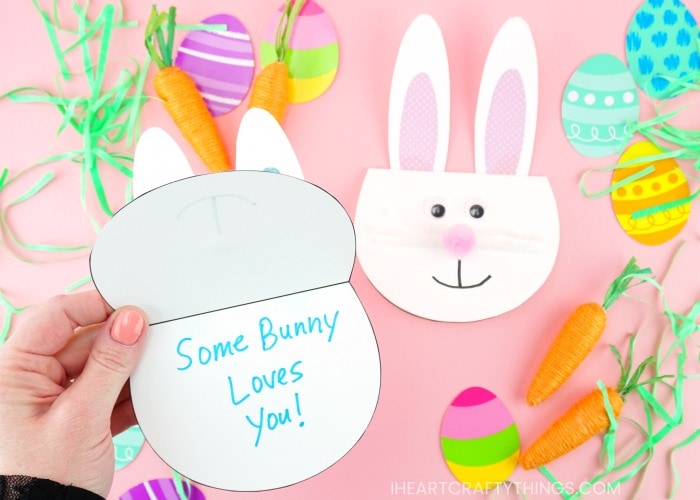 ADD FINISHING TOUCHES TO YOUR ADORABLE EASTER BUNNY CARD
10. Open up your finished Easter card and use markers to add a special message on the inside for the recipient. A few Easter themed ideas are "Hoppy Easter" or "Some Bunny Loves You". Use your creativity to come up with any saying fitting for an Easter card.
If you want to mail the card you can use an envelope big enough to encompass the entire card, or you can fold the ears down in front of the bunny to allow for a smaller sized envelope.