Do you have a favorite season? It's hard for me to choose a favorite, but I can't deny how much I love spring time, not only for it's perfect sweater weather, but also for it's endless amounts of crafting possibilities… butterflies, ladybugs, cute bunnies, chicks and sheep. I adore them all! Today we are sharing our latest craft, this oh so cute Baa Baa Black Sheep Craft that is perfect for spring time or when learning about nursery rhymes.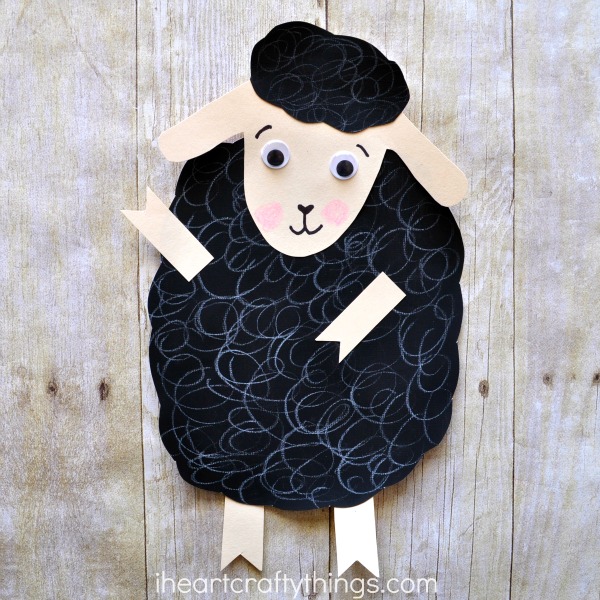 Kids being able to create the fun squiggly white outlines of the wool makes this an especially fun craft and the contract of the black wool mixed with the white squiggle marks makes this a stunning sheep craft.
HOW TO MAKE A BAA BAA BLACK SHEEP CRAFT
Supplies:
white cardstock paper
peach cardstock paper or I used a manila folder
black paint
paint brush
white colored pencil or crayon
googly eyes
black marker or crayon
pink crayon (optional)
scissors
glue
Directions:
1. Start by painting your sheet of white cardstock paper with black paint. Let it dry completely.
2. When your paint is dry, cut out the sheep's body shape (using about half of the paper) and a piece for the top of the sheep's head.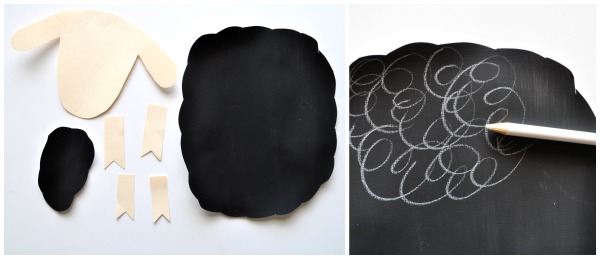 3. Cut out a sheep head and legs out of your peach or manila folder.
4. Use your white pencil or crayon to draw wool squiggle lines all over your black sheep wool, both the body and top of the head.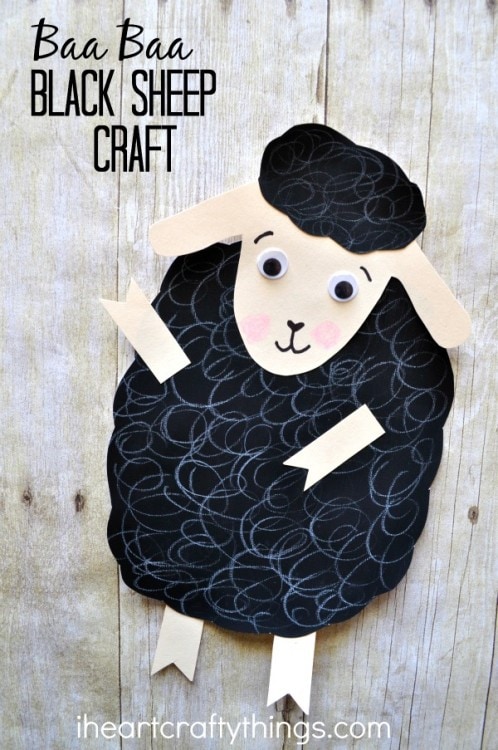 5. Glue your sheep pieces together. Then glue on your googly eyes and draw a nose, mouth and rosy cheeks on your sheep.
This adorable sheep craft goes perfectly with the book Baa, Baa Black Sheep by Jane Cabrera.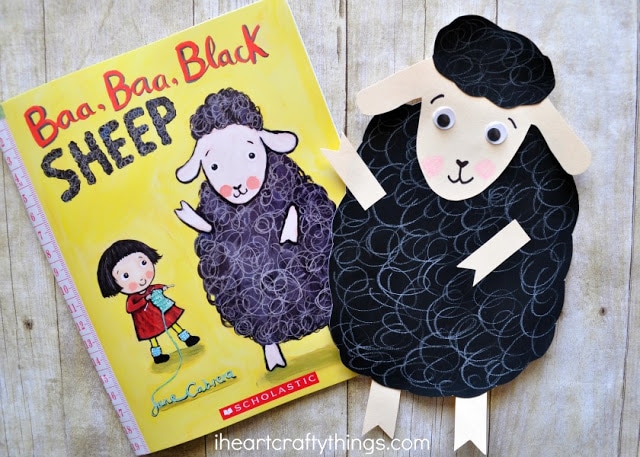 It is a great book for preschoolers with bright, colorful illustrations. I adore how Author Cabrera always adds an extra bit of fun into her books, in this case the book makes note of well-known nursery rhyme characters throughout the book and kids can follow the blue yarn throughout the book which ultimately leads to a great lesson on sharing.