We are currently in the middle of our first winter snow storm.  My kids keep looking out the window at the snow falling and are so anxious for daylight to hit in the morning so they can get out their winter hats and boots and go outside to build a snowman. No matter where you live though and no matter what the weather is like, you can always bring the snowman fun indoors. Start saving those recyclable plastic lids and have an afternoon full of fun making this adorable bottle cap printed snowman craft. Make sure to check out more fun snowman craft ideas near the bottom of this post from the kid craft stars!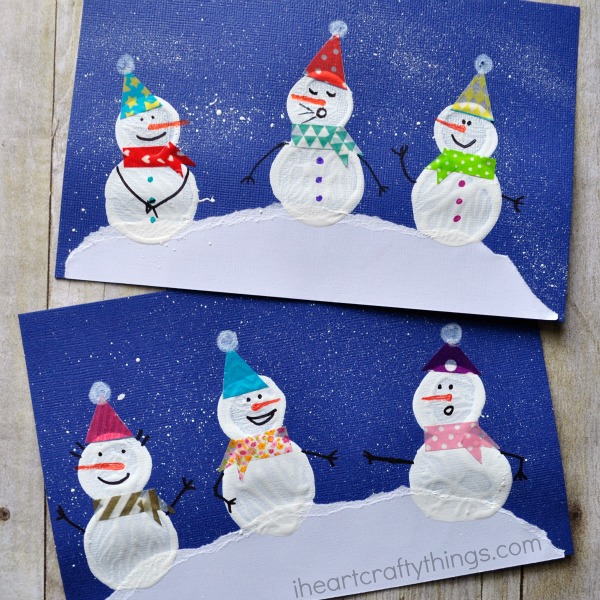 HOW TO MAKE A BOTTLE CAP PRINTED SNOWMAN CRAFT
Supplies you will need:
dark blue and white cardstock paper
white paint
bottle caps (we used a milk cap and water bottle cap)
toothbrush (optional)
variety of washi tape (like THIS or THIS)
permanent markers
white permanent chalk marker (optional)
small paper plate
glue stick
Directions:
1. Start by cutting your dark blue cardstock paper in half. This is the size we used, but you could also choose to use the entire sheet. Or, you can fold your cardstock in half and make these into adorable cards.
2. Tear a white snow hill off of your white cardstock paper and glue it onto the bottom of your blue cardstock paper.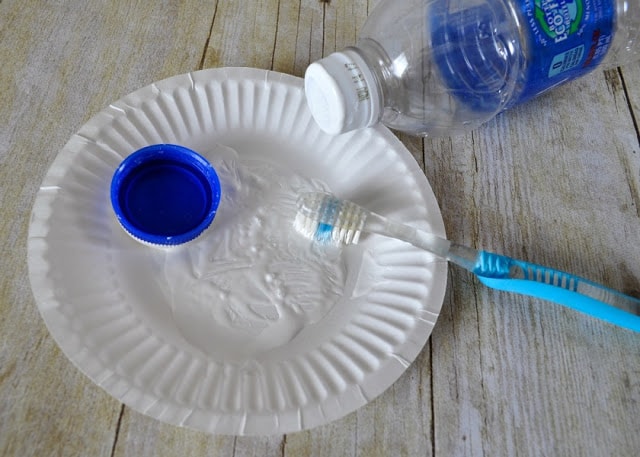 3. Pour some white paint onto your small paper plate. Press your milk cap into your white paint, making sure to cover the bottom of it completely with paint (you may need to press it down into the paint a few times) and then press it onto your white cardstock paper somewhere along your white hill. I printed three in my example.
4. Next, press your bottle cap lid into the white paint and then press it on top of the milk cap prints to make your snowmen.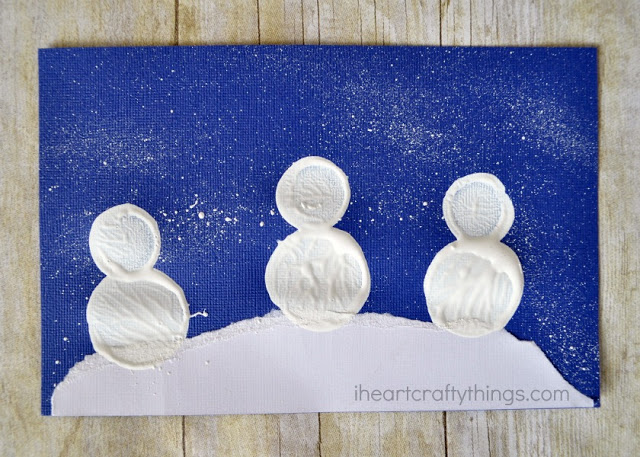 5. We also got out an old toothbrush (I like to keep on my craft supplies for projects like this) and pressed it into the white paint and then flicked paint onto our blue cardstock paper to look like snow was falling. This can get really messy with little ones so I suggest doing it outdoors or inside a sink where you can easily wash away any paint splatter. Let your paint dry completely.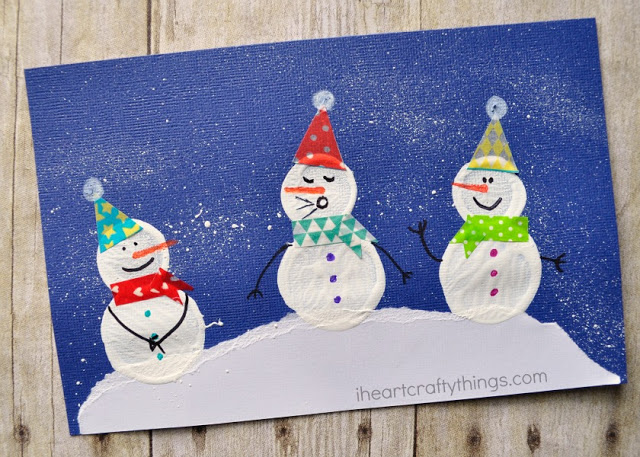 6. Once your snowmen are finished drying, get out your markers and washi tape to decorate your snowmen and give them some personality. Draw on a carrot nose, eyes, mouth and buttons with your markers and then cut out washi tape triangles for winter hats and rectangles for little scarfs. I cut a little triangle out at the end of my scarfs but little ones will obviously not be able to do this. I also added a white ball at the end of the hats with my white chalk marker.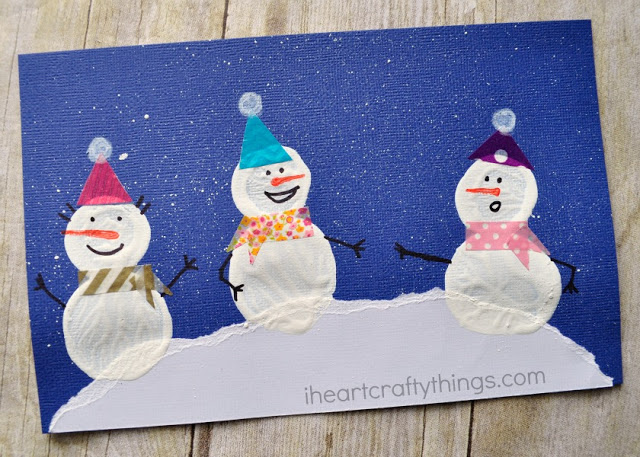 You can clearly see how much fun I had decorating my cute snowmen. From choosing the different patterned sweaters and hats, to giving each snowman a unique personality, it was a blast.