Are you ready make the cutest paper craft ever? You are going to want to hurry and add this paper hot air balloon craft to the top of your to-do list because it is absolutely gorgeous! Our free printable template makes creating your hot air balloons especially easy for preschoolers and kids of all ages to make.
The 3D effect of the hot air balloon popping off the page combined with the variety of colors makes it a beautiful craft to display at home or school for others to admire. You can even make several different colored balloons and hang them up as party decor for a summer party.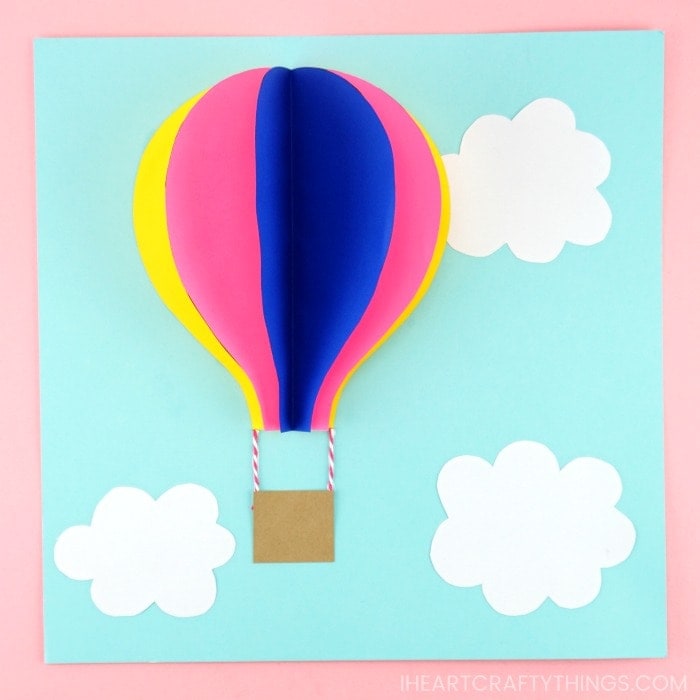 Don't let the amazing 3D effect of this colorful summer craft intimidate you because you won't believe how simple it is to make.
Grab our printable template below, read through these instructions and then watch the video tutorial near the end of this post. Afterwards you'll be ready to make your own colorful hot air balloon craft. Without a doubt it is the ultimate colorful summer craft for kids.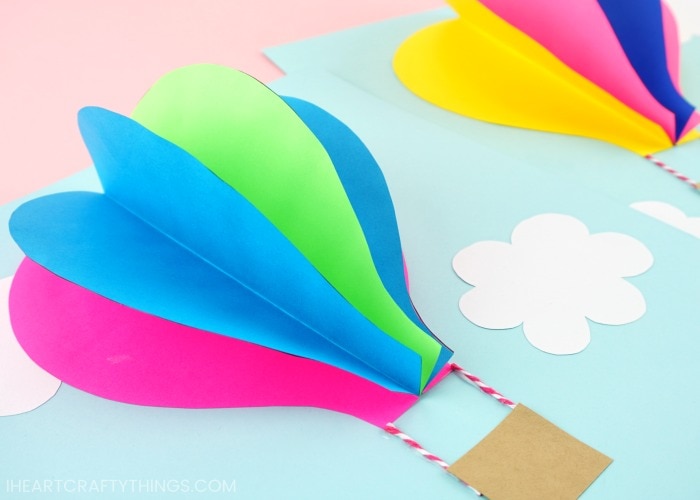 HOW TO MAKE A PAPER HOT AIR BALLOON CRAFT
SUPPLIES NEEDED FOR THIS PAPER CRAFT
3D hot air balloon template <—- Get your free pattern here
light blue cardstock* (12-inch x 12-inch)
colored paper (We love Astrobrights brand)
white paper or cardstock
tan cardstock (You can also use construction paper or a brown paper lunch sack.)
baker's twine*
scissors
glue stick*
Tacky glue or school glue
*We received these products from Orientaltrading.com. All opinions expressed are 100% my own.
INSTRUCTIONS FOR MAKING A HOT AIR BALLOON CRAFT
Step 1: Begin by downloading the 3D hot air balloon craft template. To make your paper hot air balloon you'll need five of the hot air balloon shapes. You can either print the template directly on to the colored paper of your choice, or you can print it on white paper and use it as a pattern to trace on colored paper. Cut out each of the five hot air balloon shapes.
Note: To achieve the colorful effect like we did when making our hot air balloon, you will want to make sure to choose several different colors for your balloons. We layered three different colors together. For extra colorful fun, you could even get out some markers and add extra designs and details to each of your hot air balloon shapes.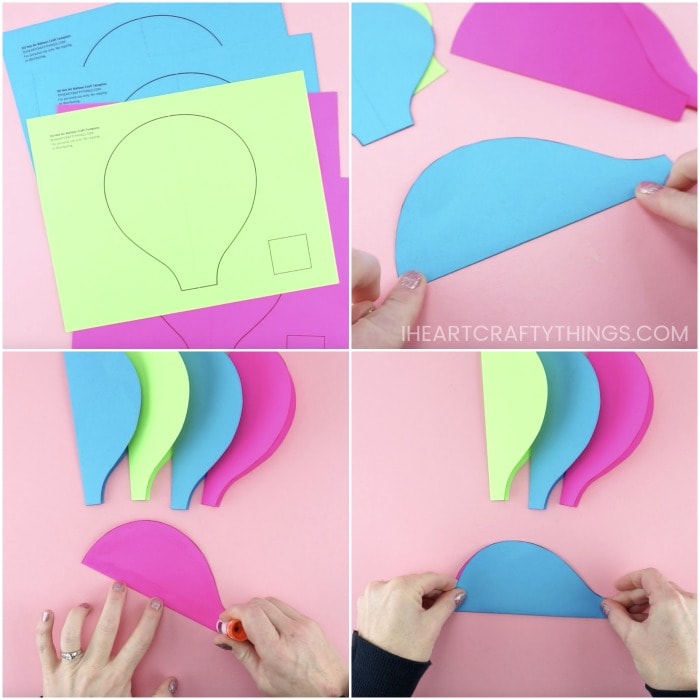 Step 2: The template also includes a square shape for the balloon basket. Use this as a pattern to cut out the square from brown cardstock, construction paper or a brown paper lunch bag. Set it aside for a later step.
Step 3: Gather and fold each balloon shape in half along the dashed line in the center of the template.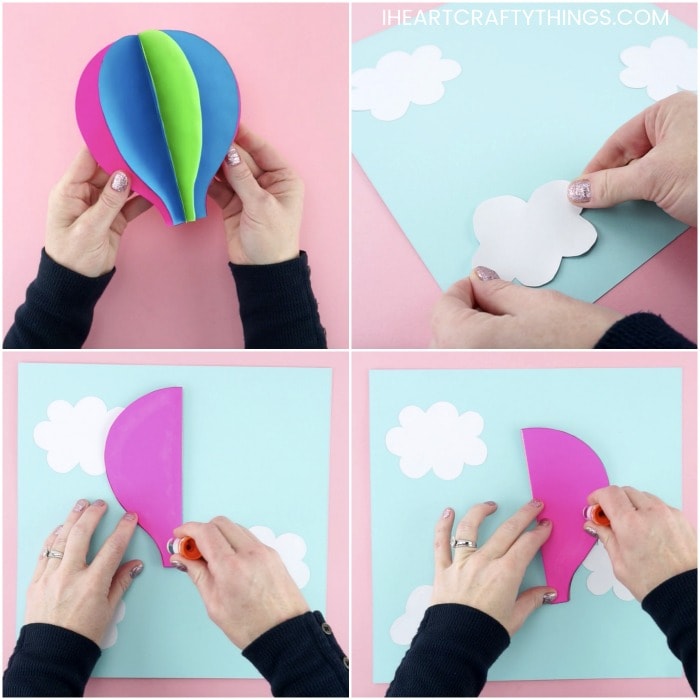 Step 4: Use your glue stick to add glue to one of the folded balloon shapes. Then line up and glue another balloon onto it. Continue adding glue and adding a paper balloon until all five have been glued together, creating a 3D hot air balloon.
Step 5: Cut out a few white clouds from white cardstock or paper and glue them onto your 12-inch by 12-inch light blue cardstock.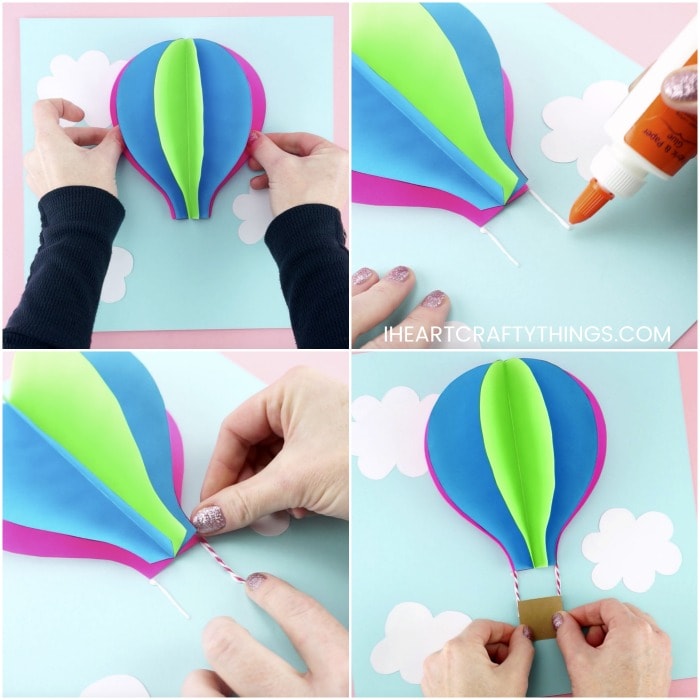 Step 6: Add glue to one of the outside halves of the 3D hot air balloon and glue it at the top of your light blue cardstock. Don't worry if it overlaps some of your hearts. This just gives extra dimension to your craft.
Add glue on the opposite balloon half and glue it down onto your light blue cardstock.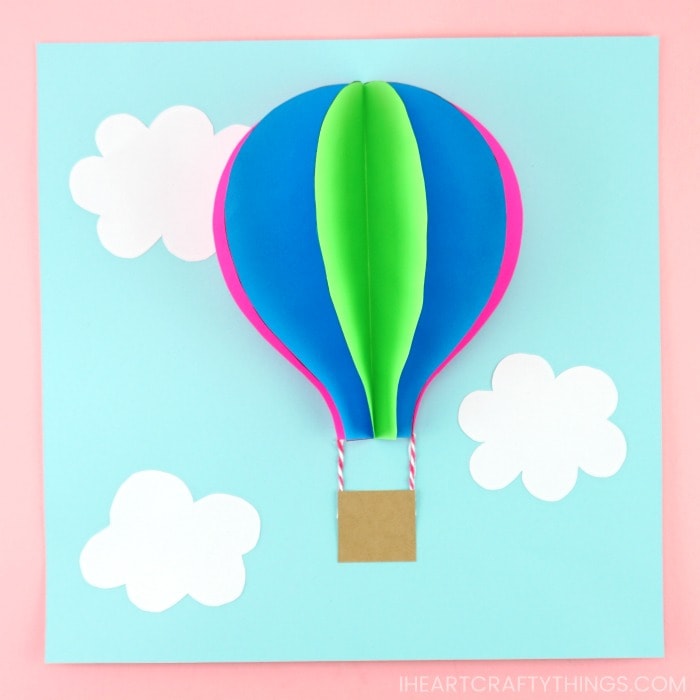 Step 7: Squeeze a line of glue about 1-2 inches long coming down from each end of your hot air balloon for the basket strings. Cut two pieces of baker's twine the same length and glue them down on your lines of glue.
Step 8: Add glue to the back of your brown balloon basket and glue it at the bottom of your balloon strings.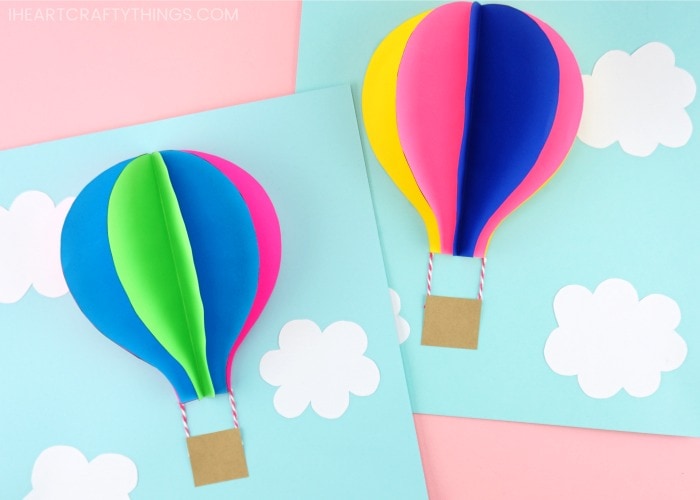 YOUR PAPER HOT AIR BALLOON CRAFT IS COMPLETE
Once your glue has dried completely, you can pick up your colorful summer craft to to see it's gorgeous 3D dimension. From both the top, bottom and all sides of the balloon, it is absolutely stunning.