Father's Day is a week away and we are finishing up some last minute craft ideas. We recently created some colorful chalk owls and they were the big inspiration behind this fun DIY Father's Day Card Kids Craft. The heart decorated wings help make the perfect card because when Dad opens them up he is greeted with a special surprise inside. It's a cute card that is sure to warm Dad or Grandpa's heart and he will happily keep it as a treasured keepsake.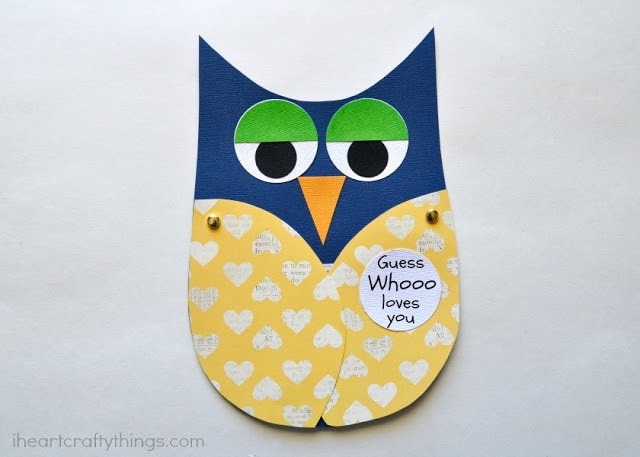 HOW TO MAKE A DIY FATHER'S DAY CARD KIDS CRAFT

Supplies:
colored cardstock paper
white, black and orange cardstock paper
heart patterned scrapbook paper
2 mini metal paper fasteners
hole punch
scissors
black marker
picture of your child
2-inch circle punch
(optional)
1-inch circle punch
(optional)
Instructions:
1. Start by cutting out the shape of an owl and use that shape two create to wings that overlap in the middle of the owl to cover the belly.
2. Use your 2-inch circle punch to cut out three circles from your white cardstock paper. Then cut out one more circle in the color of your choice for the eyelids and cut it in half. Use your 1-inch circle punch to cut out 2 black pupils. Lastly, cut out an orange beak.
3. Glue the eyes and beak onto your owl. Affix your wings to your owl with your hand and then use a hole punch to punch a hole at the top of the wings. Insert a metal paper fastener in each of the hole punches to attach the wings to the owl.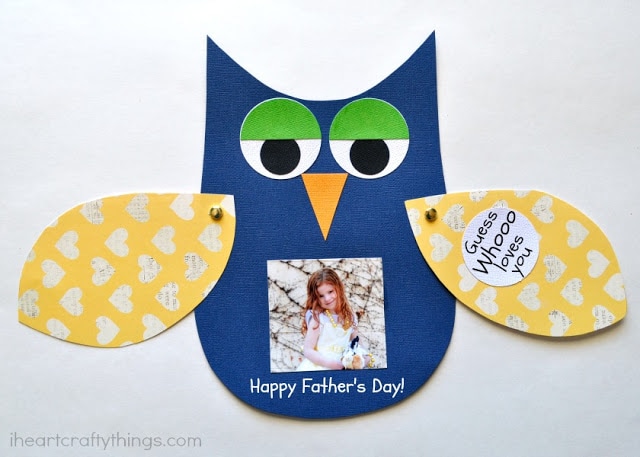 4. Glue your last white circle onto one of your wings and glue a picture on the belly of the owl.
5. Finish your owl by using your marker to write "Guess Whooo love you" on the white circle on the wing, and a message on the inside of the card. A white chalk marker could also be used if you use dark colored cardstock paper.
Give the card to your Dad with the wings shut and let him open them up to see the darling surprise inside. You can also write a message or draw pictures on the back of the owl to personalize it even more.