Paper plate crafts and easy to create crafts are my favorite combination. In this post learn how to make this simple paper plate Christmas wreath craft with our helpful step-by-step tutorial and video. See printable instructions at the bottom of this post.
This paper plate Christmas wreath is a simple and fun craft to make at school or home. It is a great way for kids to take part in adding their own personal touch to the holiday decor. Simply hang it on a mantle or doorknob for an easy, festive Christmas decoration.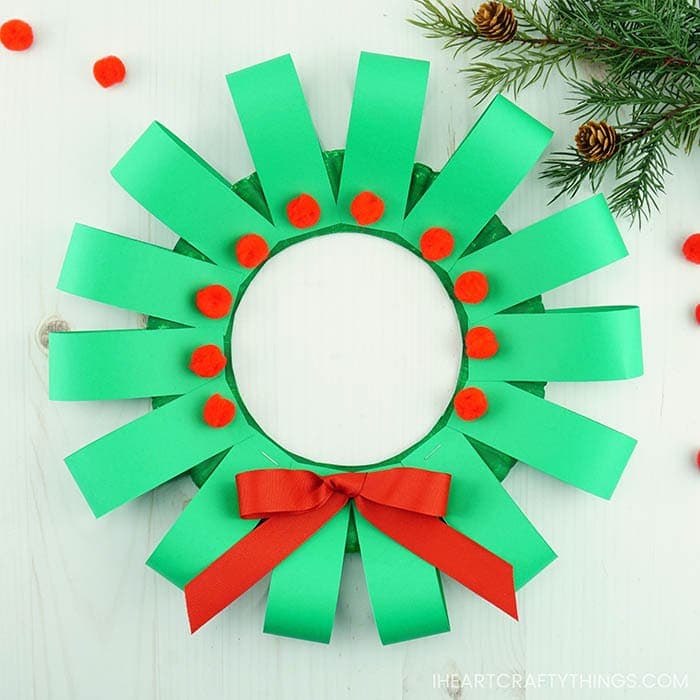 HOW TO MAKE A PAPER PLATE CHRISTMAS WREATH CRAFT
SUPPLIES:
heavy duty paper plate
green paint
paintbrush or sponge brush
green cardstock or construction paper
paper cutter
red poms
red ribbon
Glue Dots
scissors
stapler
INSTRUCTIONS:
1. Begin by using scissors to cut out the center of your heavy duty paper plate to create a wreath shape.
2. Paint the paper plate wreath with green paint. Set aside the paper plate for the paint to dry completely.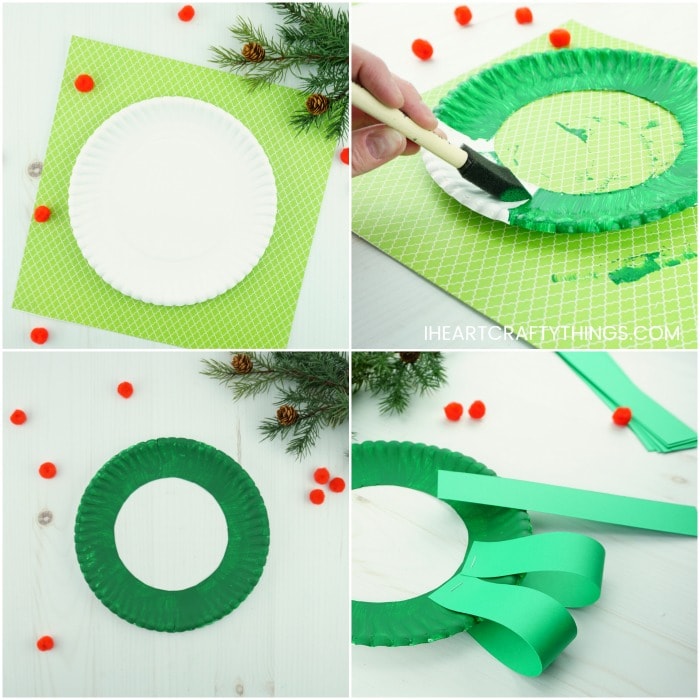 3. Use a paper cutter to cut strips of green cardstock or construction paper 1-1/2 inches by 8-1/2 inches. We cut up two sheets of paper for each wreath giving us 14 paper strips.
4. When the paint on your paper plate is finished drying, bend one of your green strips around the rim of the paper plate aligning both of the ends together around the paper plate and place a staple in your paper plate to secure the paper strip in place. Continue stapling the remaining paper strips around the Christmas wreath, overlapping each paper strip slightly.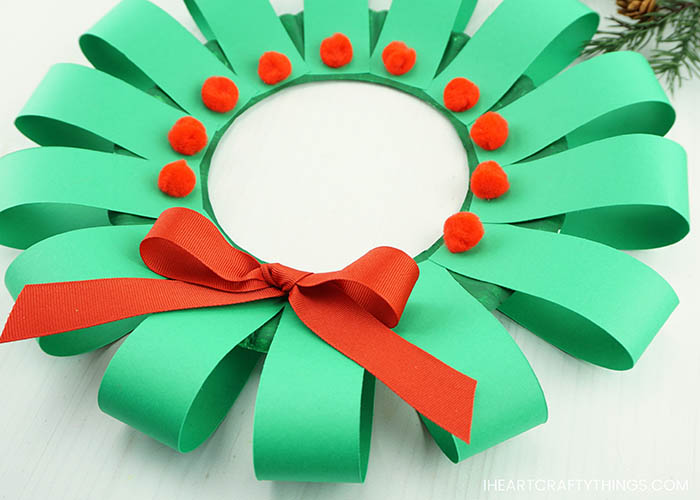 5. Cut a strip of red ribbon and tie a bow in it. Add a few glue dots to the back of the bow and attach it to the bottom of your paper plate Christmas wreath.
6. Add a glue dots to several red poms and place them around the inside of your paper plate wreath. We chose to cover each of our staples with a red pom but you can style your wreath however you choose.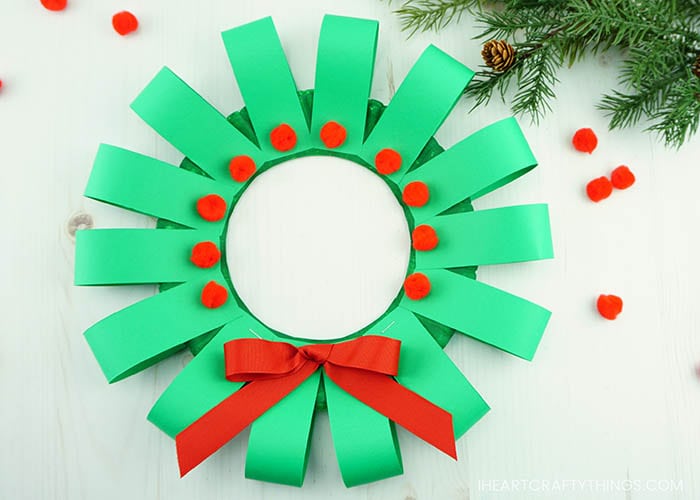 NOW IT'S TIME TO HANG UP YOUR PAPER PLATE CHRISTMAS WREATH CRAFT
Hang your colorful paper plate wreath on a mantle, doorknob or hook somewhere in your house to add some Christmasy cheer to your decor.
VIDEO TUTORIAL: HOW TO MAKE A PAPER PLATE CHRISTMAS WREATH CRAFT
.